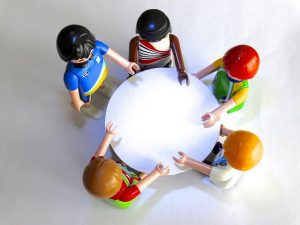 Fabulous Friday, April 24th at 3pm our traditional afternoon round-tables are back. One of our members favorite activities, and a great kick-off to experiencing a variety of energy modalities.
Experience and sample different modalities and practitioners in a small-group way that's welcoming and accessible. You'll have a chance to easily meet new people and try new things.
Starting at 3pm, join us in the ballroom for great company and experiential fun with guests Joe Schippa's Psycho-Energetic Tarot, Feng-Shui with Cat Campbell Stone, Tong Ren from Lucie Monroe, Energy Healing from Kimberly Francano, Botanical Tinctures  with Alicia North, Muscle Testing with CJ Puotinen, and Robin Bilazarian's anxiety-buster favorite, the 3×3.  More announced soon!