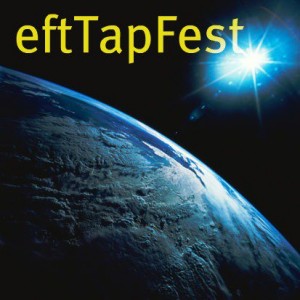 TapFest is the global community for energy practitioners, where we support, inform, inspire and connect.  You can join TapFest.com for free, and connect with practitioners across the entire globe.  We also support direct, boots-on-the-ground work in countries around the world, celebrating, helping to fund-raise and spread the word about the people who are working in the field, those they help and the uplifting relief and results achieved.  Join for free now: TapFest.com
You can hear the TapFest show on EFT Radio each month, where we offer in-depth conversations with authors, practitioners, scientists, humanitarians and experts.  Dedicated to spreading the good news of energy psychology and tapping, we also offer the High Noon Tap.  Wherever you are in the world, you can join with your fellow energy workers by tapping on behalf of disaster-aid workers and operations, the people and the country's recovery for cataclysmic events.  By joining one another in this field of intention and energy, we send a continuous wave of energy and healing to those in need.  All it takes is each of us saying, 'yes.'  Add it to your day, starting tomorrow.
We'll see you at High Noon, wherever you are.