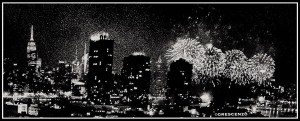 This is a fabulous picture from my very talented cinematographer Crescenzo Notarile, who's been hanging on a nice rooftop in Williamsburg, Brooklyn, lately.  I had to laugh when someone pointed out that it took real moxie to record fireworks in black & white!  That made me laugh, because it IS so very like him to demonstrate creative freedom in all he does. (Thanks for lending me the picture, C!)
This month one of our own sprang himself from a job he'd had for a long time, so we're celebrating his freedom this month, too.  Congratulations Joe Schippa, now the Director of Pupil Personnel Services, in Scarsdale, for the Edgemont Union Free School District.  We're taking the opportunity to display his creative freedom via his use of traditional CBT, Cognitive Behavioral Therapy, in combination with EFT.  At this year's Spring Energy Event, Joe presented his saving of the two, and commented on the results he's been getting for the children he serves.  Give a listen and then pass along to someone who could use this extra bit of 'creative freedom' in their own work.
Hope you are enjoying some Summer fun, and are trying out things you learned at this year's gathering in the Catskills.  I'm back from Texas now, and training L1,2  in Brooklyn next week, at the Sephardic Center on Avenue S in Brooklyn. On the 17th, some of us will be kayaking at DownUnder Kayaking in Westport, CT
Next week, you might also enjoy the return of EFT Master Jacqui Crooks, who's been camping an canoeing in the Adirondacks.  She'll be offering a specialty workshop day called Creating the Life You want to Lead, on July 18th.  Here's the link – take advantage of her being here amongst us!
In August you might enjoy DownUnder's Jenny Johnston, who's here running Past Lives – Mining the Akash workshops using these modalities plus EFT.  She has a wee bit of space left in Larchmont, NY, Aug. 1 & 2; here's the link.
I'll either be there or filming some great children's and parents sessions, then I am going to be holding another Level 3 & Beyond workshop in CT or Westchester in late September. Let me know if you're interested in that!
I hope to see you at one of these over the Summer, or something else exciting.  As always, be kind and supportive of one another, and keep tapping!
Always, Jondi